Nas prijatelj i ekspert - Ivica Ceresnjes - dobitnik ordena Legije Casti

U kancelariji na Hebrew University Jerusalem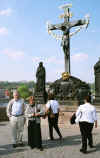 U Pragu na konferenciji o buducnosti jevrejskog nasledja

Saranda Albanija - rusevine Sinagoge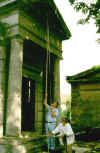 Dokumentiranje na jevrejskom groblju u Slavonskom Brodu

U Herakleji sa svojim timom

Na groblju u Nisu

IVAN ČEREŠNJEŠ
Biography
Mr. Ivan Ceresnjes was born in Sarajevo, Bosnia / Herzegovina (formerly one of Yugoslav Republics). Immigrated in Israel in 1995.
He holds two degrees: B.A and M.A, Arhitektonsko - Urbanisticki Fakultet (Faculty of Architecture - Urbanism), University of Bosnia - Herzegovina in Sarajevo and Israel.
In 1997 Mr. Ceresnjes joined the Center for Jewish Art, Hebrew University of Jerusalem as an architect-researcher and is permanently engaged in documenting of the Jewish architectural cultural heritage in the countries of former Yugoslavia, Germany and Uzbekistan.
Before immigrating in Israel Mr. Ceresnjes worked as a practicing Architect – designer, Project Manager and Manager of Building Department and was responsible for building of app. 500000 m2 of various buildings in the Sarajevo area. In his work are also included designing, building, restoration and conservation of sacral buildings of various religious denominations present in Bosnia and Herzegovina (churches and mosques). Significant part of his professional activity was devoted to Jewish buildings and sites. Among other he was engaged in initiating, supporting, organizing the funding and actively working on revitalization, reconstruction and conservation of the Old Sephardic cemetery (l6th century) in Sarajevo. Project was prepared for public presentation literally 24 hours before war in Bosnia-Herzegovina started, March 1992. Among his works are also surveys and making the actual plans of the Ashkenazi synagogue in Sarajevo (built 1902), the second Sephardic synagogue (Il Kal Nuevu) from the l7th century, the Cemetery Chapel on the Jewish cemetery (1900), preparing the project, heading the restoration and conservation of the complex of the burial site of Tzaddik Rabbi Moshe Danon, significant historic person from the Bosnian Jewish community, (1832, The Sarajevo Megilla), in Stolac, Herzegovina, 1990-1991, and planning and heading the reconstruction of the Jewish summer camp in Pirovac, Croatia, which served as central meeting place for the entire Jewish community of the former Yugoslavia, 1989-1990.
Mr. Ceresnjes is a member of two professional associations:
Society of Architects, Sarajevo, Bosnia - Herzegovina, 1974 -
Society of Architects, Israel, 1996 -
During Mr. Ceresnjes's Community Service he served in various posts: as vice-president of the Federation of Jewish communities of Former Yugoslavia, member of the board, vice-president and president of the Jewish Community in Sarajevo and of Bosnia-Herzegovina until 1996 (including the period during the war in former Yugoslavia). During the war (1992 – 1995) organized 11 non-sectarian evacuations of thousands citizens from besieged Sarajevo, and numerous convoys of humanitarian aid (food, medicine, fuel, various kinds of equipment needed for survival). To obtain all of that negotiated extensively with political, security and military authorities on all warring sides, including the UNPROFOR civil and military authorities. Organized an unique postal link between the citizens of Sarajevo and their families dispersed all around the world, smuggling in and out the besieged city an average of 100000 letters and parcels annually. In the Jewish community in Sarajevo established a two-way radio station, open on non-sectarian basis for all citizens during the three year period of total closure of the city, including the cut-off of all telecommunications for ordinary citizens. Three pharmacies have been opened and had distributed an average of 1000000 (one million) prescriptions. As a kind of psychological support to help citizen's efforts in enduring the 3 ˝ years of siege and daily sniping and bombardment, helped and supported various cultural activities during the siege. Also opened a soup kitchen in the Jewish community for 360 most needed from the neighborhood. To raise the world awareness of the unbearable situation in the city, through hundreds of interviews given to almost every known newspaper and public speaking and lecturing in Europe, North and South America and appealed on the world's conscience to stop the war in Yugoslavia.
For the merits during the war in Bosnia, named Chevalier de l' Ordre de la Legion d'Honneur of the French Republic, decorated by the French Prime Minister Mr. F. Balladour, Paris, France, 1994 (for preserving the multi-cultural, multi-confessional spirit of the country, for helping victims of war in a totally non-sectarian way, and for preserving an island of peace among warring parts of the country). Also for his social, humanitarian, cultural and political work he received recognitions of the World Jewish Congress, American Joint Distribution Committee, Hadassah Women's Zionist Organization of America, World Zionist Organization, Jewish Agency of Israel, Keren Hayesod, Israel and Keren Kayemet of Israel and Inscription in its Golden Book of Keren Kayemet le-Israel, 1995
1988 - 1996 Co-founder and co-director of the Organization for the Interfaith Dialogue "ZAJEDNO" ("TOGETHER") and co-editor of the publication with the same name, Sarajevo 1988 - 1992 Co - host of the weekly TV - Show for the Interfaith Communication and Understanding "JEDNOUMLJE" ("ONE MIND"), Sarajevo
Publications
"The Jewish Communities of Former Yugoslavia: Nationality and Nationalism" A Chapter in the book "JEWS AND SLAVS", Volume 9, The Hebrew University of Jerusalem, Center for Slavic Languages and Literatures, Jerusalem - Vienna, 2001
"Sites in Conflict Areas: Synagogues in Bosnia, Croatia and Serbia" A Chapter in the book "HISTORIC SITES AND SACRED SPACES, Cultural Roots for Urban Futures", The World Bank, 2001, Washington
"Jews in the Former Yugoslavia", "GESHER", Journal of Jewish Affairs, No 140, 1999, Israel
"The Balkan Ghosts", "NATIV", A Journal of Politics and the Arts, No 7, 1999, Israel
"Jews in the Yugoslav Whirlpool", Institute of the World Jewish Congress, Policy Dispatch No.40, 1999, Israel
"Caught in the Winds of War: Jews in the Former Yugoslavia", Institute of the World Jewish Congress, Policy Study No.17, 1999, Israel
"Jews", "VECERNJE NOVINE" ("THE EVENING NEWS"), Sarajevo daily newspaper, the regular column dealing with Jewish religious, traditional and cultural issues, (73 articles), Sarajevo, 1990 - 1992
"O Cepbckиx Ebpeяx" (ABOUT THE SERBIAN JEWS), BECTИ-2, 1998, Israel
"The Bulletin", Herald of the Jewish Community of Bosnia - Herzegovina for Cultural Events and Preserving of the Cultural Heritage, Editor and Publisher 1990 - 1995, Sarajevo
"Sefarad '92", Collection of scientific works marking 500 years of the expulsion of Jews from Spain, Editor and Publisher, Publishing house: Institute for History and Jewish Community of Bosnia - Herzegovina, Sarajevo, 1995
Reviews
Samija Saric:" Jewish Cultural and other societies in Bosnia - Herzegovina 1885 - 1945, Regesta", Publisher: State Archive of Bosnia - Herzegovina, Sarajevo, 1995
Association of Architects in Sarajevo: "Bascarsija i njena zastita" (Bascarsija - Old Ottoman Commercial Center - and its preservation") - Revitalization of the old urban center of Sarajevo, Publisher: The Bascarsija's Preservation Fund, Sarajevo, 1991
Prof. Dr. Muhamed Nezirovic: " Jevrejsko-Spanska Knjizevnost u Bosni i Hercegovini" (The Jewish - Spanish Literature in Bosnia - Herzegovina") Publisher: Institut za Knjizevnost, Svjetlost, Sarajevo, 1991
Recent lectures
….."where no Jew had ever set foot before"…..(SABBATAI ZEVI, the "Mystical Messiah" in Ulcinj, Montenegro), 4th INTERNATIONAL CONFERENCE: SOCIAL AND CULTURAL HISTORY OF THE JEWS ON THE EASTERN ADRIATIC COAST IN THE 18th CENTURY, Dubrovnik, Croatia, 2002
" Anti-, Anti- vs. Multi-, Multi-" - Anti-Semitism and Anti-Zionism vs. Multinationalism and Multikonfesionalism in Moslem and pro-Moslem media in Bosnia/Herzegovina (1990-present)" , International conference: JEWS AND ANTISEMITISM IN THE BALKANS, Bled, Slovenia, 21-23 October 2002
Multinationalism, Multiculturalism, Multireligionism in the twilight of Modernism: "Strangers among you", The international symposium: "MODERNITY AND MULTICULTURISM: Between Sarajevo, New York and Jerusalem.", The Borderland Foundation and the Borderland Center of Cultures, Arts and Nations, Sejny, Poland, 4-6 of April 2003
"Documenting Heritage: present and future applications", International Conference: THE FUTURE OF JEWISH HERITAGE IN EUROPE, Prague, Czech Republic, April 24 – 27, 2004